Free To IT Professionals:
Free Customized Office 365 Migration Plan
Shows You How To Successfully Migrate Your Exchange Server And Microsoft Applications To Office 365 Without Excessive Downtime, Lost Data, Licensing Mistakes, Compliance Violations And Problems
From The Desk Of: Brian Myrick
President and Co-founder of Interversant
Migrating your Exchange server or your entire office suite to the cloud (Office 365) is likely to be one of the most important and visible IT projects you'll handle all year. Get it right, and you'll become the office "hero," making the entire organization more productive, efficient and lowering overall TCO (total cost of ownership) for IT.
Get it wrong – or simply overlook one important detail – and the migration can quickly turn into a disaster with extensive downtime, disruptions to critical business functions, lost data, licensing issues, compliance violations and project timelines and costs spiraling out of control. And the more data you need to consolidate and migrate, the greater the risk for failures and problems.
I'm sure you already know this and have had first-hand experience with at least one IT project gone wrong; which is why I believe you'll find this letter of particular interest.
Why Consider Us?
My name is Brian Myrick, President and Co-Founter of Interversant. For over 18 years, Interversant has been a trusted resource for IT professionals like you who need either project-specific expertise (like an on premise Exchange server upgrade or Office 365 migration) or an extra set of hands to assist with time consuming (but critical) back-end IT functions such as backups, security and network monitoring, Microsoft software licensing, and a host of other IT functions to free you up to be more strategic.
At no cost or obligation, I'd like to have one of our senior consultants help you create a FREE, customized Office 365 Migration Plan for you. You will receive:
Our proprietary Cloud Migration Roadmap that details 10 critical steps to ensure a "clean" migration of all your data to eliminate (or greatly reduce) the risk of missteps, extended downtime, disruption of your company's operations and hefty increases in project costs.
Help in navigating the confusing and complicated licensing options Microsoft offers for various products (Exchange, Office, SQL Server, etc.) so you don't overpay for licenses and get exactly what you need – no more and no less.
How your system administrator responsibilities will change once you've migrated to Office 365, including how to support users, administer the backups, manage authentication, security, etc. (the good news is that it gets easier).
How to address compliance issues and data security to protect your organization from the dozens of ways your company can be harmed or sued due to security leaks, hacks, data loss and the need to comply with ever-expanding and changing data privacy laws.
 Why Free?
Two reasons: First, offering this for free is one of the best ways we know to introduce our services to you. While we don't expect everyone to become a client, we know a certain percentage of the people we meet with will want to engage with us in some way. Second, creating these types of plans is incredibly easy for us and is what we truly love to do. As fellow IT professionals, we understand the difficulty of your job.
When everything works exactly as it's supposed to, you get no "thanks." Make one mistake, and you'll have a hoard of pitch-fork-carrying users marching into your office ready to burn you at the stake! Believe me, we understand; which is exactly why you need to find a trusted advisor with DEEP experience in cloud migrations who has successfully completed  Exchange and Office 365 migrations in various environments. The LAST thing you want is to be someone's guinea pig OR attempt to climb this mountain on your own.
Even if you decide not to move your network to the cloud or engage with us as a client, you'll find the information we share with you to be extremely valuable and eye-opening.
There Is One Small "Catch"
Because our Cloud Migration Plans require an investment of our time, we are only able to do a limited few of these each month. Once our limit is reached, you will have to wait until our calendar clears up before we can help you with your plan.
Awaiting your response,
Brian Myrick
Interversant blends business acumen with technical expertise to provide technical strategy that seamlessly segues into the corporate business strategy to deliver reliable services to fuel business stability and growth.
I have worked together with Interversant on numerous IT projects over the years and they have always exceeded my expectations. They have wide range of knowledge and skills and I have called on them on several occasions to resolve problems when others can not.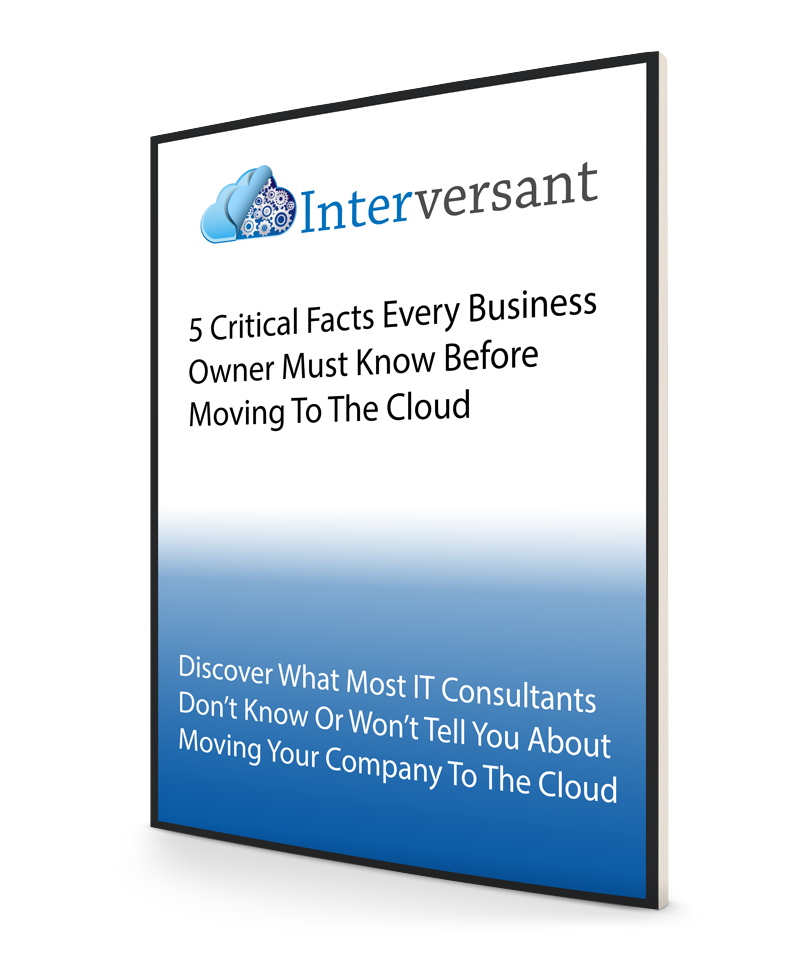 Trying to convince your boss that moving to the cloud is a good thing? Send them this free report: 5 Critical Facts Every Business Owner Must Know Before Moving Their Network To The Cloud